The Best in Glass Coatings, Window Tints, Security Films, Frosting, Privacy Coatings and Decorative Window Films
Bee Cool glass coatings provides glass coatings such as window film, window tint, security film, Frosting, Decorative window film, and security film for windows. Expert installation of all glass coatings is provided by Bee Cool certified installers. All Bee cool window tint, window film, frosting and window security films block 97-99% of UV Rays. This helps reduce fading of flooring, furniture, cabinets, window blinds, and many other materials.
Sun Control glass coatings can provide many benefits to home and business owners. These high quality coatings use nano-technology and precious metals to let the comfortable sunlight in and keep the damaging UV rays, heat and glare out. When installed on your glass they are crystal clear, allowing you to see out. Add a window tint to reduce glare coming i windows and to add some privacy. Bee Cool sun control glass coatings work year around to reduce heat coming in windows and to bounce heat back in your home during cold months
Decorative window film and frosting are great for adding privacy and adding a classy look to your windows. Upgrade your boardroom glass with window frosting and window graphics. Adding window graphics is a great way to showcase your corporate image and increase customer awareness of your business.
Security window film adds safety and security to your windows. Much like window bars but without having to see them. Bee Cool security film is crystal clear and extremely strong. If you want window security film and also need to add privacy to your windows we can add a window tint or solar reflective coating to the security film.
Our Glass Coating Consultants come to your home or business and find the correct product to meet your needs. We can even perform an on site demonstration of how the products work and how they will look once installed. In most cases, our technicians can also complete the installation of your glass coating in the same visit.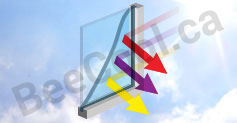 Our glass coatings reflect 99% of UV rays, infrared rays and varying amounts of visible light to meet your needs. Bee Cool intelligent sun control glass coatings reflect these rays, keeping your work space cooler in the summer and warmer in the winter.
---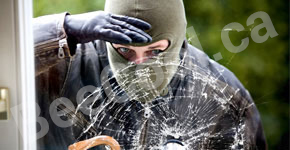 Bee Safe Glass Coatings are virtually clear and incredibly strong. They are designed to withstand hurricane force winds, explosive pressure, vandalism and large & small high velocity debris.
---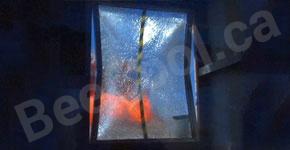 Bee Cool Blast Mitigation Glass Coatings and specially designed window bonding products can help reduce injury and damage from flying glass caused by unexpected blasts or explosions.
---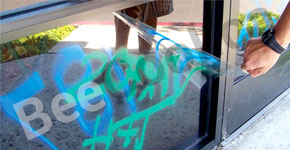 Bee Cool Anti Graffiti Glass Coatings protect your glass from tagging, acid etching, scratching, sharpies and of course, graffiti. Anti Graffiti coatings are a clear, virtually invisible glass protection system.
---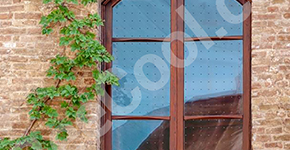 Bee Cool Glass Coatings Frost Dot Bird Safety Film is a specially designed pattern that breaks reflections on the glass allowing birds to see that there is an obstruction ahead of them, yet not creating a distracted interior view.
---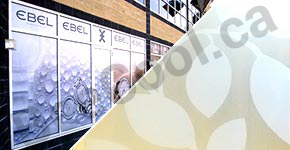 Used to create privacy or decorative motifs, our lines of frosting, vinyl and perforated graphic film offer an array of creative options for your windows. Create signage, decorative motifs, increase privacy, or work with us to create new ideas for your unused window space.
---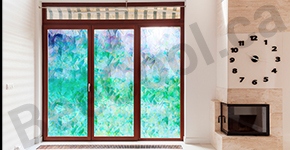 This visualizer can let you see the examples in real-time so you can select the privacy or decorative styles, lines of frosting, vinyl or perforated graphic film in many creative options for your windows. Create signage, decorative motifs, increase privacy, or work with us to create new ideas for your unused window space.
---
Frequently Asked Questions
What areas does Bee Cool service?
Bee Cool has fully stocked service trucks that come to your home or business in Alberta, British Columbia and Saskatchewan. The three largest cities we service are Edmonton, Calgary and Red Deer.
How long do Bee Cool glass coatings last for?
Bee Cool sun control coatings are warrantied for 10 years and can last between 15 and 20 years before needing to be replaced.
How much do Bee Cool glass coatings cost?
Our technicians will always provide you with a full written job costing and get your approval before starting.
Your final cost will depend on how many windows your are getting done. To solve the problem areas in a home or business, we have found the average cost ranges between $1500 and $6000 (CAN). If you choose to have all your building's windows done, call 780-448-6044 and a Bee Cool representative can provide you with a custom quote.
Can I clean my windows after Bee Cool glass coatings are applied?
Yes you can, BUT you CANNOT use products with ammonia in them. We will provide you with cleaning cloths and a cleaning agent that is ammonia free.
We ask that you do not clean your windows for 30 days after the install, but after 30 days they can be cleaned normally.
What are Bee Safe Security Coatings?
For more information, and to watch a video on our Bee Safe Security Coatings, please visit our Safety and Security Film page Alberta.
How do Bee Cool Sun Control coatings work?
For more information on how our Bee Cool Sun Control Glass Coatings work, please visit our How Our Products Work page Alberta.
What is the difference between window tint and window film?
Window tint is a dyed product that absorbs energy from the sun. This is very bad for your home windows as it can add too much stress to the glass.
Window tint can be used on vehicles though, because vehicle glass is tempered or heat strengthened. Tempered glass is much stronger and can be subjected to the stress of a window tint.
Window film is used in homes because house windows use float glass, and when applied with window film, will not break. Window film products are designed to reflect solar energy rather than absorb it. Window film absorbs about half of the energy as a window tint will, making it safe to use.
What is the difference between Window tint, Glass coating, window film and transparent vinyl for sun control?
What do they all mean and are they the same or different. We could get all Geeky on you here and take it to the lab, talk about the chemical composition and blah blah blah but will skip that part and get to the meat and potatoes.
For as long as we can remember window film has been called window tint by car enthusiasts and the general public. Some used it to black out their windows for privacy or to give their car a cool look. Others installed a lighter window tint to protect the interior of their car and to reduce heat, glare and fading from the sun. Non are legal to be installed on the driver or passenger side windows but in most cases are approved for the rear and back windows of a vehicle. One day someone came up with the great idea of adding one of these window tints to their house windows and it worked great. They got some added privacy and reduced the heat coming into their home. That was just the start. Soon businesses had it added to their windows to increase privacy and stop heat from coming.
It was not long before these windows started to break. No one really knew why until they started testing the glass for thermal absorption rates and finding out how much heat a window could reflect, absorb and transmit. What they found was that Automotive window film or better known as Automotive window tint, absorbed too much energy from the sun and was causing these windows to break. With some research, development and testing window tint manufacturers came up with a window film that reduced the amount of energy being absorbed. This worked great for several years until double pane windows came out. Then windows started breaking again and window seals were failing. With some more research, and lots of testing, they found that once again to much heat was being absorbed causing the breakage and seal failure. With solar heat gain through windows being such a massive issue throughout the world there were several companies working on finding a solution. Who found it first and the best one is all up to the way you look at the data. The good news was that they found a solution, well kinda. It worked but did start breaking glass again when low e coatings came out and when installed on sealed glass units that got larger, or had some shading on them. Back to the lab window tint manufactures went and a new window film product was born that would work with some of these new low e coatings.
It was around this time that glass coatings became a bit more cost effective. When referring to glass coating, we are talking about Low e coatings - Both soft and hard. Plus highly metalized coatings that make glass reflective so it can bounce the sun's heat and light rays back outside. Most of the time glass coatings are installed in the glass manufacturing process. One Ray that these glass coatings have not been effective at blocking is UV Rays that cause fading and skin cancer. Over time a company came up with a transparent vinyl that was added to seal unit windows. This Vinyl was clear but had some solar reflective properties to it. I believe it also blocked 95-99% of UV rays. The window manufacturer would layer/suspend the transparent vinyl or polyester between the two pieces of glass. Making what looked like a triple pane window. The idea was brilliant. However it also costs more so home builders typically use standard double pane windows to keep building costs down.
Fast forward to 2007, Bee Cool glass coatings is born. We started using 3M window films and tint. What was known to be the best in the industry. After a few years Bee Cool decided it's time to step it up and come up with there own sun control and security window film coatings. Why would you do that when your already using the best coatings. Well because the team at Bee Cool believes things can always be better. So what makes are window film and window tint better. Let's start at the most basic part, the glue or adhesive. Most products use a sticky adhesive and that makes sense, or does it? What if you had an adhesive that was dry and activated by water. This would make it so that when you peel the liner off the window film all the dust in the air would not stick to it before getting your product installed on the window. Oh and would it stop fingerprints from appearing in the glue. You bet it does. When installing window tint, hair, bugs, fuzz and paint chips love jumping behind your tint as your installing it. With an adhesive that's not sticky you have time to remove contaminants and complete your install with no adverse effect or marks in the glue. As a window tint installer you have an easier time installing your window film and customers get a nice clean final product. Sticky adhesives are also known as pressure sensitive. Over time they can start to distort or bubble and peel. With dry window film adhesives the bond is a chemical reaction that gets stronger with time. So what else is important if you want the best window tint. How about clarity and distortion. You want to keep your view perfect or even better then it was before your window tint was installed. To achieve this Bee Cool glass coatings products use high grade polyester, dyes and metals. Are all the raw materials from North America. No because some manufactures produce better raw products in other countries. When using high grade product there is no need to use as much. This means your final window film product can be thinner and therefore have less distortion. Using smaller metal molecules also mean better clarity and performance. In addition to that Bee Cool window tint is dyed using a deep dye bath rather than chip dying. Resulting in a product that will hold its colour for an extended period of time and not turn purple after 3 years. The final product is assembled/manufactured in the United States to ensure quality and limit shipping costs and delays. In addition to all the extra effort put into product quality we also came up with a safe window tint film for triple pane windows. After looking high and low, No other company in the world to our knowledge can make this same claim. Are all window tints, glass coatings, window films, frosting and Decorative window films created equal. Clearly not. If you're looking for a long term solution to upgrade your Residential home windows we recommend you look at Bee Cool glass coatings.
Oh right, the original question. What is the difference between, window tint, glass coating and window film. Well window tint is just a term that's commonly used by the automotive industry. Window film is used by the flat glass and architectural glass division. Glass coating is widely used in glass manufacturing and new window sales. Over the last 5 years there has however been a trend to use glass coating when referring to any coating that goes on glass. This could be solar control window film, frosting and etching, window tint or vinyl, decorative window film, and low e or reflective window film coatings.