For Mobile Glass Tinting Service Toll Free 1-855-448-6044
Bee Cool Glass Etching, Frosting, Window Tints, Graphics & Signage
Commercial, Office or Home
Bee Cool Glass Coatings is a leading provider of frosting, graphics and signage products.
Bee Cool Glass Coating provides a variety of glass etching frosting graphic material and window graphics glass signage material that can be used to enhance your storefront, office or boardroom appearance.
Professional onsite sample displays of coatings, laminate, film, frosting, graphics and signage vinyl selections can help you choose the right glass laminate for your home, condominium, apartment, office or commercial building. Bee Cool's mobile laminate glass frosting and graphics installation team are equipped with everything needed to professionally assess your site, provide you with sample products and complete the installation quickly and efficiently.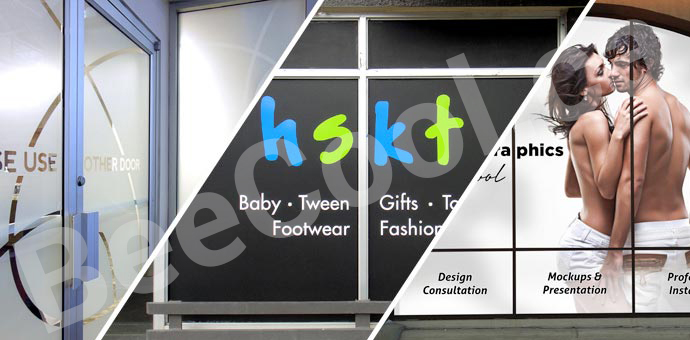 We carry a variety of window frosting and decorative glass laminates for different environments and applications. Bee Cool's professionally equipped graphics department can work with your current artwork and vision and/or assist in developing artwork that will further enhance your corporate image.
If you need to add privacy to your office glass, window frosting is a great option. We have several window frosting design options and Custom CNC cut graphic design options into or out of the frosting. There is even the option to have a picture or logo printed into the Frosted window film and window tint. Home owners are often concerned about window privacy at their front entrance, bathroom window or kids rooms. Many door and entrance systems, bathrooms and childrens rooms have clear glass that offers no privacy to people looking in from the exterior. Bee Cool glass coatings has several window frosting films and window tints that can add privacy to your glass.
Bee Cool 3M Frosted Crystal
Has nice sparkle to it when light reflects off it. Unlike dusted crystal, frosted crystal by 3M window film you can also have a picture printed into the window frosting. This is great for any window that looks out onto somewhere you rather not or adding privacy to a glass office or board room windows. Frosted crystal window film can also have graphics cut into or out of it. Add that classy look to your windows with Bee Cool glass coatings.
Bee Cool Dusted Crystal
There are many frosted glass types. 3M dusted crystal is one of the top choices. It offers a traditional frosted glass look to the glass while also adding privacy. The 3M dusted window frosting comes standard with a thick liner. This allows a CNC machine to cut graphics into or out of the frosting. The Bee Cool glass coating team can create custom window frosting for your home and office windows. Not all window frosting can be removed but 3M window frosting has an excellent adhesive that holds the window film on when needed and can be removed when required.
Bee Cool Etched Glass
A cost effective window frosting. Bee Cool etched glass is for full sheet window frosting. This means the liner is to thin for a CNC machine to cut graphics into it. Most customers have etched glass installed on offices, sidelights, board room where full privacy is needed or just a stip of etched window frosting is needed to create privacy or hide a mess located behind the glass.