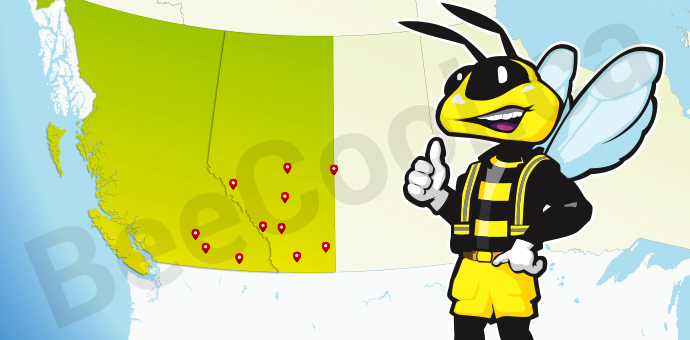 Grande Prairie Glass Coatings
Bee Cool Glass Coatings, window tint proudly serves Grande Prairie with high quality, functional glass coatings for sun control and security applications.
Schedule your on-site consultation today! We bring sample cards, demonstrative heat lamps and information packages ensuring a thorough understanding and satisfaction with your chosen product.
Why Window Film?
Decrease Heat - Bee Cool sun control window tint is extremely efficient at controlling the effects of solar energy. Film can provide up to 80% heat reduction as compared to untreated glass.
Cut Glare - Targeting specific wavelengths of the sun's rays will reduce glare while improving the view.
Reduce Fading - Window film blocks 99.9% of UV rays and greatly reduces fading in your home or office.
Increased Privacy - Our glass coatings offer full privacy, medium to full privacy, medium privacy and no privacy.
Increased Safety - Make your glass virtually impenetrable with Bee Safe security film.
Improve Comfort and Enjoy Energy Savings - By reducing heat and glare in your home, you will save money on utility bills.
Enhance Appearance and Add Class to your Glass - With the largest selection on the market today, we will find the right product to fit your needs.
10 Year Warranty and in most cases we can complete your install in one day.
No Added Maintenance - Once applied, maintain your windows as you did before the window film application.
Residential Window Film Grande Prairie
Residential window tints provide peace of mind to Grande Prairie home owners by reducing the heat, glare and fading of your furnishings. All our home window tinting products come with a 10 year warranty against peeling, cracking, fading and delaminating. As Western Canada's largest provider of home window film products, Bee Cool Glass Coatings Grande Prairie sets the standard with selection and professionalism. At Bee Cool Glass Coatings, our goal is to provide you with the best service, product, installation and warranty on the market. We look forward to making your Grande Prairie home renovation a success.
Commercial Window Tinting Grande Prairie
Bee Cool Glass Coatings Grande Prairie - Our commercial window film is being used in Grande Prairie and all over the country to lower energy consumption, increase comfort, reduce glare, add privacy to meeting rooms and offices, all while creating a stylish, efficient environment for your employees. All our commercial window tinting products come with a 10 year warranty against peeling, cracking, fading and delaminating. Let us help you get cool and comfortable at your Grande Prairie business.
Bee Safe Security Film Grande Prairie
Safety film and security film is designed to protect both people and possessions. These films can provide protection against smash-and-grab crimes, vandalism and theft. When the event is vandalism, robbery or natural disasters, the end result is shattered glass in your Grande Prairie home or business. Protect your family and business with Bee Safe Security Film.