For Mobile Glass Tinting Service Toll Free: &nbsp &nbsp &nbsp &nbsp&nbsp 1-855-448-6044
Bee Cool Glass Coating Edmonton - Bird Safety Film Laminate
For Edmonton Home, Office or Commercial Glass Surfaces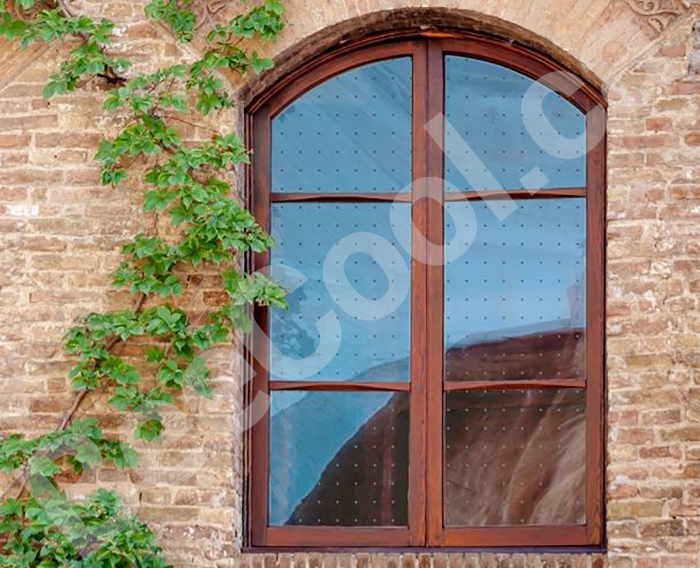 Bee Cool Glass Coatings Edmonton - Frost Dot Bird Safety Film Laminate:
is a durable, UV stabilized, optically clear polyester film, with a ¼" gray frost dot pattern separated by 2" clear spacing that deters birds from flying into reflective glass. Bee Cool Glass Coatings Edmonton Frost Dot Bird Safety Film is a specially designed pattern that breaks reflections on the glass allowing birds to see that there is an obstruction ahead of them, yet not creating a distracted interior view.
Made with 4mil heavy-duty polyester bonded by strong adhesives, this safety film provides a clear yet powerful barrier that helps hold glass in place in the event of an impact or earthquake. It is recommended for application to exterior glass and all acrylic and polycarbonate sheeting and is ideal for decorative or architectural applications.
Bee Cool Glass Coatings Edmonton mobile onsite window film and window laminate technicians provide residential or commercial businesses with products that are installed by professional teams to ensure a premium installation in accordance with manufacturer's installation instructions.
Bee Cool Glass Coatings Edmonton professional onsite samples of glass laminates, films, and window tint selections can help you choose the right glass coating, window tint or film for your residential home, condominium, apartment, office or commercial building. Bee Cool's Edmonton mobile glass laminate installation consultants & technicians are equipped with everything needed to professionally assess your home or business and complete the installation quickly and efficiently, often on the first visit.
It's Bee Cool Glass Coating Edmonton's goal to ensure you have the correct information to make the best decision in selecting the most appropriate glass coating, laminate, window tint or film to meet the needs of your home, office, building, apartment & condominium glass surfaces.
Specifications
Product Code
SX-BSFD
Product Family
Exterior
Film Type
Polyester
Adhesive Type
Pressure-sensitive
Usage
Exterior
Available Width(s)
60", 72"
Full Roll Length
95 Linear Feet
Thickness
4mil
Shading Coefficient
.93
Visible Light Reflectance
10%
Visible Light Transmission
89%
UV Transmission
less than 1%
Solar Heat Reflectance
8%
Solar Heat Transmission
78%
Solar Heat Absorbance
14%
For more information contact us at 1-855-448-6044