For Mobile Glass Tinting Service St Albert: 780-448-6044 | Toll Free 1-855-448-6044
Bee Cool Glass Coating Window Tinting Film Glass Security Laminate Solutions for Windows in St Albert
Home, Office or Commercial
St Albert Bee Cool Glass Coatings & Window Tinting provide: - Sun Control window tint, heat rejection glass coating, UV protection glass film and glare reduction window laminate. - Glass Security laminates and glass blast protection glass Laminates. - Decorative glass coating window graphics and privacy glass frosting for offices and boardrooms.
Bee Cool Glass Coating St Albert's professional on-site product displays and demonstrations will help you choose the right glass coating, window tint, window film or glass frosting for the building window and glass environment you are working with. Bee Cool Glass Coatin St Albert's mobile glass film and window tinting laminating trucks are equipped with everything needed to professionally assess your site, provide you with sample window tint products and complete the installation of film, window tint or glass coatings quickly and efficiently, often times on the first visit. Bee Cool Glass Coating St Albert's mobile service glass tinting and glass laminating service trucks are equipped to complete your window tinting or glass laminating needs quickly and efficiently.
It's Bee Cool Glass Coating St Albert's goal to ensure the time you spend making the correct decision and selecting the best product that meets the need of your St Albert home, office, building, apartment or condominium window tinting challenges is kept to a minimum.
Bee Cool Glass Coating St Albert has professional graphic designers that can incorporate your corporate images/logo into the signage for storefront glass, office walls or interior office privacy frosting on glass that will enhance the look, appeal and marketing value of your business.
St Albert's window tinting service provided by Bee Cool Glass Coating can meet your on-site home window tinting, commercial window tinting, apartment window tinting and office window tinting needs with professional on-site window tinting consultation & expert window tinting installation.
Mobile window tinting service St Albert by Bee Cool Glass Coatings has been providing excellence in window tinting service throughout Alberta for over 15yrs.
Find Us Across Canada
or Call for Location Nearest You in Canada or U.S. 1-855-448-6044

Heat, UV, Glare & Sun Control Glass Coatings St Albert
Bee Cool Glass Coating St Albert sun control glass coating window tinting laminates reflect up to 99% of UV rays, infrared rays as well as varying amounts of glare to meet your needs. Bee Cool Glass Coating St Albert intelligent sun control glass coatings, laminates and window tinting, reflect these rays, keeping your home or business cooler in the summer and warmer in the winter.
Residential Window Tinting St Albert
Bee Cool Glass Coatings St Albert reflect up to 99% of UV rays, infrared rays as well as varying amounts of visible light to meet your needs. Keep your home cooler in the summer, warmer in the winter, reduce glare, prevent fading and keep your furnishings looking new for longer.
Reduce Fading & Protect Your Furnishings St Albert
UV rays are the largest cause of fading. High quality glass coatings block 99% of ultraviolet (UV) rays. This means a dramatic decrease in faded furniture, flooring, pictures, paintings, etc, not to mention mitigating the harmful effects UV rays can have on building occupants.
Glare Reduction St Albert
Up to an 83% reduction in glare will give you a clear view of TV and computer screens. Bee Cool Glass Coatings St Albert can help reduce eye strain and get the view back that you have already paid for.
Like Having Sunglasses for your Building St Albert
Bee Cool Glass Coating St Albert window glass films, laminates and window tinting are like having sunglasses for your building. You will be able to open your blinds and enjoy the natural sunlight in comfort. Rooms will feel bigger and more inviting. Get your view back and be comfortable year round.
Commercial Window Tinting St Albert
The sun's rays heat up the interior of office buildings, create glare issues, raise air conditioning costs and create uncomfortable work environments. Bee Cool Glass Coating St Albert's intelligent sun control glass films, laminate and window tinting reflect these rays, keeping your work space cooler in the summer and warmer in the winter.
Commercial Safety & Sun Control St Albert
Keep heat from getting in and you won't have to pay to pump it out. Unlike drapes or blinds, Bee Cool Glass Coatings St Albert, laminates and window tintings reject up to 80% of the heat that would otherwise come through the window, saving you energy and improving comfort.
Safety & Security Solutions St Albert
Windows can be a weak point in the safety of your home or business, but can be strengthened by Bee Cool Glass Coating St Albert's Safety & Security Glass Coating laminates which are designed to hold the window in place even if the window breaks. This prevents easy access for intruders and minimizes the damage to surrounding areas by flying glass.
Blast Protection St Albert
When it comes to safety, Bee Cool Glass Coating St Albert is ready to help. Bee Cool Glass Coating St Albert's Bee Safe Blast Film laminate has been tested to the highest standards, Achieving a GSA2 rating. Bee Cool Glass Coating St Albert's Safety & Security glass laminates minimize flying glass in the event of breakage, giving peace of mind to unpredictable areas.
Perforated Graphic Film St Albert
Perforated Film is a printable film with small, uniform holes covering its area. From a distance the holes are unnoticable and give the look of a solid image on your window. From behind looking out, it is virtually transparent, taking on the look of a slight window tint.
Window Frosting St Albert
An attractive and affordable alternative to expensive etched glass, frosting can be custom cut to almost any design you can think of, doubling as promotional signage and delivering privacy while allowing just enough light in for a soft, natural feel.
Alberta and British Columbia Glass Coatings
Bee Cool Glass Coating St Albert also services Alberta and B.C. and have fully stocked service trucks that come to your home or business and provide on-site consultations and professional installations.
Why Window Film? St Albert
Decrease Heat - Bee Cool Glass Coating St Albert sun control window film is extremely efficient at controlling the effects of solar energy. Film can provide up to 80% heat reduction as compared to untreated glass.
Cut Glare - Targeting specific wavelengths of the sun's rays will reduce glare while improving the view.
Reduce Fading - Window film blocks 99.9% of UV rays and greatly reduces fading in your home or office.
Increased Privacy - Bee Cool Glass Coatings St Albert offer full privacy, medium to full privacy, medium privacy and no privacy.
Increased Safety - Make your glass virtually impenetrable with Bee Cool Glass Coating St Albert's Bee Safe security film.
Improve Comfort and Enjoy Energy Savings - By reducing heat and glare in your home, you will save money on utility bills.
Enhance Appearance and Add Class to your Glass - With the largest selection on the market today, we will find the right product to fit your needs.
10 Year Warranty and in most cases we can complete your install in one day.
No Added Maintenance - Once applied, maintain your windows as you did before the window film application.
Residential Window Film St Albert
Residential window tints provide peace of mind to St Albert home owners by reducing the heat, glare and fading of your furnishings. All Bee Cool Glass Coating St Albert's home window tinting products come with a 10 year warranty against peeling, cracking, fading and delaminating. As Western Canada's largest provider of home window film products, Bee Cool Glass Coatings St Albert sets the standard with selection and professionalism. At Bee Cool Glass Coating St Albert, the goal is to provide you with the best service, product, installation and warranty on the market.
Commercial Window Tinting St Albert
Bee Cool Glass Coatings St Albert - commercial window film is being used in St Albert and all over the country to lower energy consumption, increase comfort, reduce glare, add privacy to meeting rooms and offices, all while creating a stylish, efficient environment for your employees. All Bee Cool Glass Coating St Albert's commercial window tinting products come with a 10 year warranty against peeling, cracking, fading and delaminating. Let us help you get cool and comfortable at your St Albert business.
Bee Safe Security Film St Albert
Safety film and security film is designed to protect both people and possessions. These films can provide protection against smash-and-grab crimes, vandalism and theft. When the event is vandalism, robbery or natural disasters, the end result is shattered glass in your St Albert home or business. Protect your family and business with Bee Safe Security Film.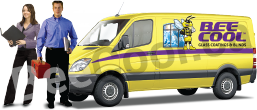 Mobile Laminating Unit Call:
St Albert: 780-448-6044
Toll Free: 1-855-448-6044
St Albert
One of Alberta's most prestigious and family oriented communities to live in. With a population of about 63,000 the economy is strong and full of locally owned and operated businesses. On the weekends from June to October you can find 10,000 to 15,000 people at the St Albert Outdoor Farmers' Market.
Some of St Albert's Festivals and events include:
The Northern Alberta International Children's Festival - During the five days of the festival, children experience sights and sounds of many different cultures while learning through the medium nearest and dearest to their hearts.
Kinsmen Rainmaker Rodeo - Starts with a parade that winds its way through the heart of St. Albert. After the parade, the rodeo begins, with exciting rodeo events, midway and musical performances.
Rock'n August - A week long festival in which hotrodders come from kilometres around to show off their masterpieces and look at the creations of others as well. As many as 6,000 participants will come to enjoy the rumbles of chrome pipes and the classic rock and roll music.
Other annual events include the St. Albert Rotary Music Festival, and Mambos and Movktails, a jazz concert at Bellerose Composite High School.
St Albert also host an annual Harvest Festival at the St Albert Grain Elevator Park.
The Cheremosh Ukrainian Dance Festival - Held at the Arden Theatre is one of the largest dance festivals of its kind in North America. It is hosted annually by the Cheremosh Ukrainian Dance Company and generally takes place during the second weekend in May.
Facilities:
Families can be found living life to the fullest at the $42.77 million multi-purpose leisure centre, Servus Credit Union Place. It features a recreational aquatic centre, a kid's play area, two hockey rinks, a 2000-seat performance rink, two soccer fields, three basketball courts, a large exercise room, and a running track among other amenities. You can find Fountain Park Pool offering a variety of pools, tennis courts, racketball courts and a child play area. There is also 3 slash parks in St Albert that the kids are sure to enjoy.
Bee Cool Glass Coating, Windwo Tint, Window Film, Graphics & Security Glass Laminate Solutions St Albert
Important Locations:
St. Albert Junior Hockey Team
St. Albert was twice formerly home to an Alberta Junior Hockey League franchise. Between 1977 and 2004, it was home to the St. Albert Saints, which produced players such as Mark Messier and Mike Comrie. Jarome Iginla also played for the St. Albert Minor Hockey Association, which included stints with the Bantam AAA Sabres and the Midget AAA Raiders. Other hockey players that have played in St. Albert are Mark Messier, Rob Brown, Geoff Sanderson, Fernando Pisani, Paul Comrie, Mike Comrie, Troy Murray, Stu Barnes, Brian Benning, Stevem Goertzen, Rene Bourque, Jamie Lundmark, Erik Christensen, Steve Reinprecht, Todd Ewen, Dion Phaneuf, Ryan Kinasewich and Drew Stafford. In 2007 the Fort Saskatchewan Traders relocated to St. Albert and became the St. Albert Steel until they moved to Whitecourt in 2012 and became the Whitecourt Wolverines. Currently St. Albert does not have a Junior Hockey team.
Testimonials
" I would like to thank you and your installers for the prompt, top notch service. Your product has cut the heat in my south facing offices and reduced the AC usage. Your installation staff were very professional, quick and pleasant. They were on time and completed the job with minimal disturbance to our workday. "
" Your housecall was informative and non-aggressive; the two installers were prompt, friendly, knowledgable and did an excellent job, and every time I made phone contact with your company, they too were friendly and helpful. Needless to say, your business philosophy is most effective and we will definitely recommend you to others! "
" I live in Slave lake Alberta and had been looking for a Sun Control glass coating as my house has a southern exposure on the back side and it gets hot, really hot. After finding Bee Cool on the net and thinking because it was located in St Albert, maybe just maybe they would let me buy their coating and I could install it, as I thought there would be no possible way that I could get them to do it for me as the price would be astronomical. Well was I wrong after a visit to their store the wife and I were absolutely astounded at the price which included installing and the travel for their expert installer. Who by the way was as friendly and efficient as the people in the store. Anyway it's been a month now and the house is very cool both temp wise and the house looks so Cool. Thank you all at BeeCool. We love your product!!!! "
" I would like to take this opportunity to let you know how pleased I am with the window tinting product you supplied and installed. The window tinting has made a huge difference in keeping the house cool, particularily through this very hot period. I can feel that the house is noticeably cooler. Also, the two installers were a pleasure to have in my home. They were friendly, efficient and on time. They left my house clean, without a trace of garbage or mess of any kind. They did a fantastic job and were happy to answer all of my questions. "
View Products St Albert
Request Further Contact
---