Bee Cool Perforated Vinyl Decorative Window Coating Tint Spruce Grove
After Perforated Graphic Film Spruce Grove
Perforated Graphic Film Spruce Grove
Decorative Glass Coating Spruce Grove

Perforated film is a printable film with small, uniform holes covering its area. From a distance the holes are unnoticable and give the look of a solid image on your window. From inside looking out, it is virtually transparent, taking on the look of a slight tint.

Bee Cool Glass Coating Spruce Grove's Perforated Graphic Film can be used for privacy or to create a decorative look on a Spruce Grove exterior glass surface. It can be easily removed and updated. Attract Spruce Grove customers while maintaining your view, increasing privacy and reducing glare and heat.

An attractive image and well defined product that can help build your sales. Often your Spruce Grove store front is the first impression a new client will see and can affect their confidence in your business. Bee Cool Glass Coating Spruce Grove's perforated window film will make a statement on your store front. Bee Cool Glass Coating Spruce Grove can help you create custom solution to fit almost any graphical need or idea.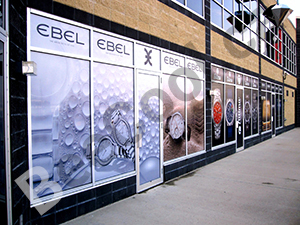 Printable graphic film.
You can see out, while onlookers will only see the exterior graphic design.
Signage that doubles as privacy in Spruce Grove commercial and residential settings.
Blocks 60% of heat from entering your building.
Reduces glare from exterior light.
Easily changed and updated.
Photo Examples